"If we don't do anything about thought,
we won't get anywhere."
David Bohm
Everyday we think, hear and talk about thought in some form or another, after all, our world is built upon our thoughts. We travel over roads, rails and bridges designed and built from thoughts and let's not forget about flying through the air in an aircraft whose very existence birthed itself from the fertile imaginations of thinkers. Right? Thoughts are the pillars that prop up the worlds economies, keep wars raging for decades and dream of new and unusual ideas to fix all that thought has broken on our little blue marble of a world spinning wildly in a corner of a galaxy named The Milky Way, a name created by thought.
David Bohm spent years traveling around the corners of the world talking about how thought is behind everything good and bad that is taking place in the world, he also talked about how thought builds upon thought and only slowing and becoming aware of thought is there hope to get control of it. I'm not sure if Bohm would approve of my use of the word control but I think it's important as a marker in our quest to understand thought. Once we better understand the power of thought better we may be able to jettison any thought of control. What do you think?

1
Thought Is Not Propriceptive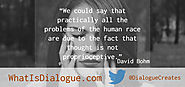 "We could say that practically all the problems
of the human race are due to the fact
that thought is not Proprioceptive."
2
Suspend Their Certainty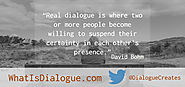 "real dialogue is were two
or more people becomes
willing to suspend their
certainty in each othr's
presence."
3
Movement And Unfoldment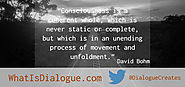 "Consciousness is a
coherent whole, which is
never static or complete,
but which is in an unending
process of movement and
unfoldment."
4
Microcosm Of The universe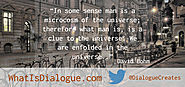 "In some sense man is a
microcosm of the universe;
therefore what man is, is a
clue to the universe. We
are enfolded in the
universe."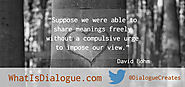 "Suppose we were able to
share meanings freely
without a compulsive urge
to impose our view."
Save